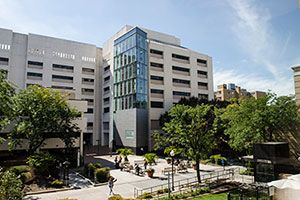 The Post-Baccalaureate academic enhancer GCATS program has established a linkage with the George Washington University Doctor of Medicine (MD) program. The minimum qualifications are set by GW School of Medicine Admissions. As of 2020, the minimum undergraduate GPA is a 3.6 and the candidate has NOT taken the MCAT upon admission to the GCATS program. 
Here's how it works:
 At the start of the GCAT/MATS program, students who come into the program with a minimum 3.6 GPA and have not taken the MCAT will meet with the GCATS/MATS director to discuss applying for the linkage program. Any MATS students who qualify and want to pursue linkage will be switched to the GCATS program. 
Applications are submitted in September and reviewed by GW Med. Admissions.
Interviews for all linkage candidates in programs throughout the school are interviewed in November just like medical student candidates. 
In January, candidates are notified of acceptance into the linkage program and take the MCAT before the end of April.
Candidates are notified of official acceptance into the GW Medical School Program in May/June 
For those interested in the linkage program, more information will be available after admission to the GCATS program.