Dear Colleagues,
I am deeply saddened to share the news of the passing of our dear friend and colleague, Frank Slaby, PhD, professor of Anatomy and Cell Biology. Dr. Slaby passed away on Monday, March 18, 2019. He was an important part of the SMHS family for over four decades and will be greatly missed. Throughout his tenure, he had a deep impact on the education of thousands of students. He was a person of integrity, decency, and a model citizen of the school and the university.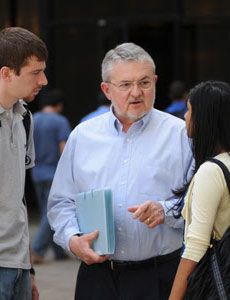 Dr. Slaby was an innovative and committed educator who taught thousands of GW students during his career in anatomy courses for medical students, physician assistant students, physical therapy students, and undergraduates. He was always looking for creative ways to teach his students and his contributions were central to the development of our multiple curricula. He cared deeply about his students and their success and thrived on improving medical education. In 1985, he was selected as the recipient of the Golden Apple Award - an annual award given by medical students recognizing the faculty whom the class thought was their best teacher. In 1999, Dr. Slaby was also the recipient of the GW SMHS Distinguished Teacher Award - the preeminent award given to SMHS faculty members who have demonstrated a sustained recorded of excellence in teaching, education and pedagogy, who model a true commitment to teaching and engage in the scholarship of teaching and learning.
Dr. Slaby joined the faculty in 1977 as an assistant professor rising through the academic ranks to become a full professor in July 2004. Within SMHS, he served on numerous committees and task forces including the Executive Committee of the Faculty Assembly, the Curriculum Oversight Group, the Curriculum Management Group, the Health Sciences Curriculum Committee, and the Committee for the Undergraduate Medical Curriculum. He also served as the Block Director for the MSK Block in the current MD curriculum. In addition, Dr. Slaby was a graduate of the Master Teacher Leadership Development Program and authored numerous papers and textbooks, including Gross Anatomy in the Practice of Medicine.
Dr. Slaby is survived by his wife of 35 years, Susan McCune, MD, their son Christopher, and Dr. Slaby's brother, Robert Slaby (Barbara).
The family will receive friends on Tuesday, March 26, 2019 between 5pm and 8pm at the Pumphrey Funeral Home in Bethesda (7557 Wisconsin Avenue). In addition, the school will hold a memorial service on Wednesday, May 8, 2019 at 11:00 am in Ross Hall 101. A reception will follow in the Weingold Executive Conference Center.
In lieu of flowers, the family has requested that donations be made to the Glen Echo Park or you can make a donation to the Frank Slaby Award.
Warmest regards,
Jeffrey S. Akman, MD
Vice President for Health Affairs
Walter A. Bloedorn Professor of Administrative Medicine
Dean, GW School of Medicine and Health Sciences